About Us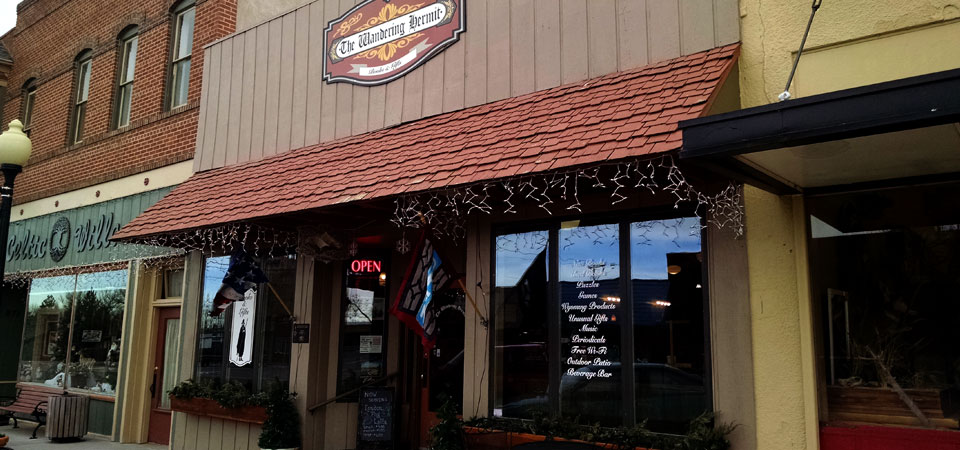 Family, Friends, Community, and Coffee
The Wandering Hermit is a cozy, independent bookstore that opened its doors in November of 2014. We pride ourselves in our great beverage bar, our large and eclectic selection of new books, our used books section, and our wonderful collection of Wyoming made gifts. What we hear the most from our customers is how much they enjoy our welcoming atmosphere….the smell of fresh ground coffee beans, the fireplace and the soft music in the background. In the summer we pride ourselves in having flowers on the patio and in our flower boxes out front.
The Wandering Hermit Books and Gifts is located in downtown Wheatland, a" gem" of a downtown shopping district that is experiencing a renaissance recently. Two bakeries, a deli, a wildlife studio, a health foods store, a microbrewery & steakhouse, a grocery store, a furniture store, and several quaint gifts shops and antique stores make the downtown district an enjoyable location to shop.
The bookstore is owned and operated by Dan Brecht and his son, Zach, both of whom are lifetime residents of the Wheatland area. In addition, Dan's sister, Vicki, is also a part of the family-run business.
The Wandering Hermit Books and Gifts is proud to offer a wide variety of Wyoming made gifts including the world famous Chugwater Chili, locally made cribbage boards, etched glass with Wyoming's own bucking horse logo, sturdy, wildlife-themed tote bags, deer antler whistles, local handcrafted jewelry, smoked cheese from the Big Horn Basin, locally made bath soaps, bath teas, wax melts, candles, coffee mugs, Wyoming fossils and more.
We also have an amazing inventory of new books….fiction, non-fiction, children's books, books on Wyoming and the Rocky Mountain West, books for young adults, travel guides, adult coloring books, and much more.
We welcome you to come in and enjoy the pleasant ambiance of one of Wyoming's finest books and gift stores. We are open Monday through Saturday 8:00 a.m. through 5:30 p.m. at 875 Gilchrist Street in historic downtown Wheatland.